October 28, 2009
Getting to Know... Katie Pearlman 
Written by: Matthew Mendoza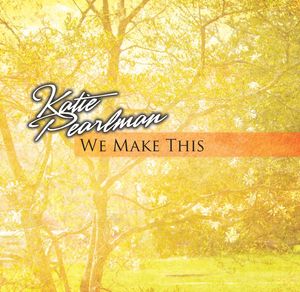 Katie Pearlman's music is a new generation of Contemporary Soul. Incorporating Rock and Nu-Jazz to traditional Soul music, Katie Pearlman creates a vintage, yet new style of American Country and Soul using her amazing multi-instrumental talents. This new blend of music includes Queen-style guitar solos, amazing drum sets, and the beautifully honest voice of Katie Pearlman. Through this library of talents, Katie ultimately sings about life's unforgettable experiences, both the good and bad, and those joyful and regretful.

Katie Pearlman comes from a unique, musically diverse background. Several iconic musicians hold an influence in her music such as Van Halen for it's Southern Rock rhythm, Dolly Parton for her Country tone, and Bonnie Raitt and Joan Osbourne for her vocal majesty. This rich blend of musical history creates Katie's well defined musical style.

Katie and her band consist of Katie Pearlman on drums, vocals, and acoustic guitar, Tom Bowler on bass, Joe Cesare on guitar, and Jeff Pearlman on pianos. Katie is releasing her second album "We Make This" on November 1st. This will be her second album release since "Dreaming Again in 2008. "We Make This" is an incredible album that utilizes every string of her talent and compositional skill. In addition to Soul, listeners will quickly hear original Country and Folk sounds that have found their way into her music. Songs like, "I Feel", "We Make This" and "You Wrong" truly display Katie's unique fashion in songwriting. The album drops November 1st and will be available for download on her website, as well as iTunes and Amazon.


The Exclusive Katie Pearlman Interview


MCMB: How long have you been playing music?

I've been playing drums for about 18 years now, guitar for 14, and singing for 8. I started writing songs when I was 15 or 16, but had a bunch of years where I stopped because I was working with other bands. I came back to songwriting in 2006 and I hope that I never stop. I find it to be the most rewarding.

MCMB: If you could describe your music in any way, how would you?

If Don Henley and Bonnie Raitt had a child, that would be me.

MCMB: Which earlier musicians have influenced you the most?

As a drummer, I grew up listening to Van Halen and Rush. As an aspiring songwriter and singer, one of my favorites was Fleetwood Mac. Bonnie Raitt was also a huge influence vocally along with Joan Osborne.

MCMB: You have a new album out in November. Describe the music making process for you in the production of it.

I had all of the songs written and picked out before we went into the studio. I write my songs on the acoustic guitar first. I write the melody of the song at the same time as the guitar part. Then I play the song for my husband and keyboardist, Jeff, to see what he thinks. If he digs it, then Jeff charts it out and we collaborate on the keyboard parts. Then we bring the song to the band (bass player and guitarist) and communicate the vision of the song and I switch to drums. I've found that it's good to have the material flushed out and played for a while before we start recording so that when we go into the studio, the result is how we play the songs live. This album took about 11 months to finish, from recording to mastering, which is pretty good timing.

MCMB: How has your music evolved since you began playing?

I've learned a lot about where to be in the song, especially coming from a drumming standpoint. I've learned how to be a more supportive player to the vocalist by working with other vocalists and also becoming more of a full-time singer myself and evolving as a singing drummer. I've learned to look at the voice as an instrument, and in a band situation, each instrument needs to occupy a certain space and not to infringe on any other instrument's space. The littlest things rhythmically can really be hard to sing over, and that can come from any instrument, not just the drums. The same rule applies tonally. You want to make sure that all of the instruments are playing in harmony with each other and making each person sound better.

MCMB: What's your ultimate direction for you and your music?

Ultimately, my main goal is to keep getting better. I would like to record an album a year. I'd like to do a stripped-down acoustic album, maybe a live album, and maybe a country album one day because I love country music. I want to keep experimenting and exploring songwriting and singing and make good music. I look up to songwriters like Dolly Parton, who has thousands of published songs...and good songs that don't fade with the years...they become classics. I hope to have a catalog of songs that large one day and that caliber of quality.

MCMB: Is there anyone you'd like to acknowledge who's helped you get to where you are today?

The person who I owe everything to is my husband and music partner, Jeff. He has been my biggest support in pursuing songwriting and performing. We have awesome musical chemistry and he's the best. I've never worked with anyone on the level that I work with Jeff. We explore the music and the parts to the deepest extent that I think is possible. We'll analyze some parts of songs until we find what works. I feel so fortunate to have someone that I can explore music (and life) in this way.

MCMB: Any last words?

Yes. Thank you for helping me get my music and my story out there. I really appreciate it.


http://www.katiepearlman.com
http://www.myspace.com/katiepearlmanmusic